Do you want to know how to fit into the crowd of black clad weirdos? You've arrived at the right place. 
Step 1) Look through your clothes. See colorful shit? It's gotta go. Can't have any rainbow unicorn shit in the black pit of despair that will become your life. (Same goes for makeup, no pink eye shadow, black is the way. We might allow some gray in there.) 
Step 2) Take your now completely black clad ass to the cemetery, sit under a dead-looking tree, and read Edgar Allen Poe, or anything to do with vampires. Except Twilight. We're bloody creatures of the night, we don't sparkle. Fuck the sun. 
Step 3) Next go to the store, doesn't matter where, and buy all of the black liquid liner they have. You'll need it. This will be you. 
Step 4) Shave your eyebrows off. You won't need them, you'll sacrifice them to Satan. 
Step 5) Do your research and find who you want to worship. Satan is an option. 
Step 6) Dye your hair black or just shave it off too, it can be a sacrifice too.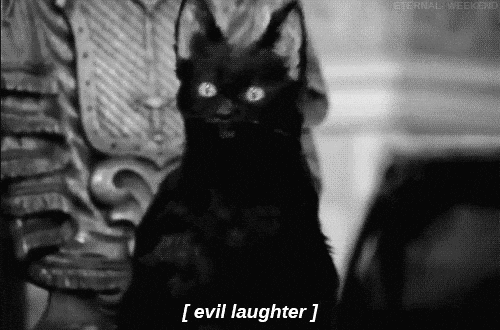 Step 7) Forget all the music you liked before. That shit will be dead to you. From now on you only listen to goth bands.
Have a miserable day!
Tip: Immense sarcasm and goes with any outfit. This post was filled with hogwash. 
Check out the music 'cause that's where it all started. Being goth is about embracing the weirdo you are, not about becoming a stereotype. Unless you feel it in your bones that you should, then fucking go for it. Whatever makes you happy, 'cause unlike popular belief, we're not all miserable and full of hatred. Some, such as myself,  who suffer from depression and anxiety, are goth, but that doesn't automatically put us into the category. 
I hope you found this slightly amusing and I hope you lovely beings have a nice day. :P Be kind, be weird, and laugh at least once a day.
All photos came from WeHeartIt.com, I own nothing. 
Please reload